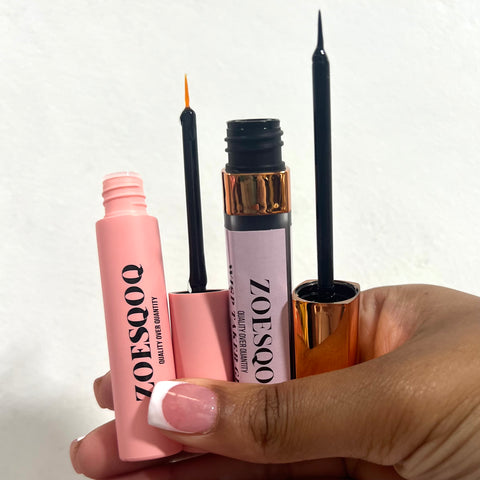 ZoesQOQ
غراء Wisp Taker + Sealant Duo
يشمل:
1 Wisp Taker Glue
1 Wisp Taker Sealant
Wisp Taker Glue المكونات: أكريليت كوبوليمر ، أكوا
Wisp Taker Sealant Ingredients: Water ، Propylene Glycol ، Glycerin ، PVP ، Polyvinyl Alcohol ، Butylene Glycol ، Sodium Hyaluronate ، Methylparaben ، Phrnoxyetbonal ، Disodium EDTA
يمكن استخدامه للرموش العنقودية والرموش الشريطية
THE BEST LASH GLUE
I use this lash glue for my lashes and i swear to you my lashes literally last almost a month. and it probably could last a month if the lashes didn't get grimy over time 😂 anyways i ran out of this glue once and had to use regular lash glue and i swear the lashes barely lasted 3 days so don't walk RUN to get this lash glue!!!
Lash glue
The lash glue is soo good! I really loved it for a first time user. Its really easy to use it also lasted me 3 weeks with proper care, it's also cry proof!
Brush On (Wisp Taker Glue + Sealant 2.0)
Lash glue
The lash glue didn't hold my strips. I thought it was gone be the lash bond brush for individual clusters but it was not. The lash glue doesn't hold well. I've bought this glue before and it held great which is why I wanted the bond for individual clusters but it doesn't hold well at all
Hii
The strip lash glue and clusters glue are the same glue, just versatile use.
Here are some tips for long wear:
1. Clean lashes and make sure they are free of product and oil
2. Work in sections
3. Apply 2-3 layers to natural lashes and wait until tacky (about 10 seconds)
4. Apply false lash to natural lash only and not the waterline
5. Repeat until desired look is achieved
6. Pull down lashes and apply 1-2 layers of sealant on top of lashes where false/natural lashes connect
7. Wait about 30 seconds-1min for sealant to dry down
8. Clamp false and natural lashes together with tweezers tightly
9. Wait 1hr+ pull test and 24-48hrs for water test for best results
it's good could be better