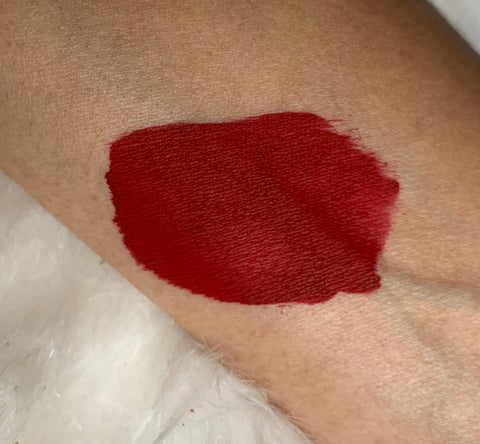 ZoesQOQ
Money Boo
Deep red 
Liquid Matte Sauce is scented with strawberries! Have something to look forward to when putting on your lipstick, no more of the ordinary chemical lipstick scent! This liquid matte sauce is a liquid lipstick. Liquid lipstick is when it is in a form of liquid but when it is applied, it dries matte. No more fearing of your lipstick transferring or even crusting up! Guaranteed to last up to 7 hours.
Apply chapstick before applying Matte Sauce
Transfer Free
Crust Free
Vegan
Subtle strawberry scented
Amazing color and scent
I love the color and smell of this lipstick even though it was a little dry to my lips but that's what all matte ones do. I love it still!!
TO DIE FOR!!!!
I love everything I received! They're all amazing! The lip glosses, to the matte lip products, to the lash products, UGH 😍 Will definitely be buying again and it came rather quick also. 🙂 The sweet note, plus stickers made it even better. Shop here, you will NOT regret it!
They have the best lashes and lip products!!! I been buying my lashes here since March 2020 , never shopped with anyone else . With proper care the lashes from here last a long time
Super pretty!!
This shade looks amazing against my brown skin. It's a beautiful true red shade and it's not drying. Totally melanin friendly!
Money Boo
Pros: Ruby woo vibes. Great color for brown girls. Cons: didnt last hours Shipping took waaaaay too long.