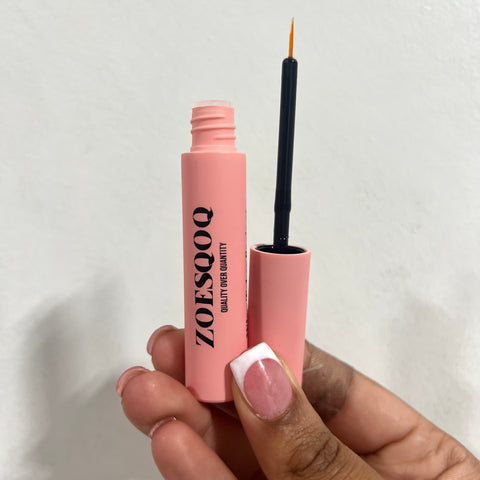 ZoesQOQ
Wisp Taker Sealant 2.0
Our lash sealant is the perfect addition to your beauty routine. It is specially formulated to extend the wear of your lash clusters for up to 1-2 weeks, ensuring that your lashes stay in place for longer.
 The sealant dries clear, so you don't have to worry about any unsightly residue or discoloration. It is easy to apply and will help to keep your lashes looking their best for longer.
Whether you're heading to a special event or just want to look your best every day, our lash sealant is the perfect choice. Try it today and see the difference it can make to your lashes!
Best to be used with our Wisp Takers Glue for long lasting results.
Ingredients:
Water, Propylene Glycol, Glycerin, PVP, Butylene Glycol, Sodium Hyaluronate, Methylparaben, Phrnoxyetbonal, Disodium EDTA
Sis get the glue
Best glue ever , I will never use anything but this . I walked passed the duo and felt disgusted that was ever a thing . Congratulations worlds best glue . I've done cried at a funeral and pool lashes still in place corner to corner too .
Love these
Love her entire line. I have the clusters, glue, sealant, and remover. The remover works great. None of the products irritate my eyes. My onlyyyyyy very small complaint is that sometimes the clusters are hard to get off of the thing it comes in, but that may be user error lol
The sealant is a must paired with the glue! If you have one you gotta get the other. My eyes water constantly especially now with allergies and my lashes have not moved! Love this